Admission to the Program
Graduate Application Package
To apply, you must submit the items listed below to the SSU Admissions Office via CalStateApply. The application deadline in the Biology Department is January 15th for Fall Semester admission and October 31st for Spring semester admission.
Please note: Graduate Record Examination or GRE scores are NOT required for admittance into our program. Applicants are still welcome to submit their GREs, but this is optional, and not a requirement.
1. Complete an online University application via CalStateApply.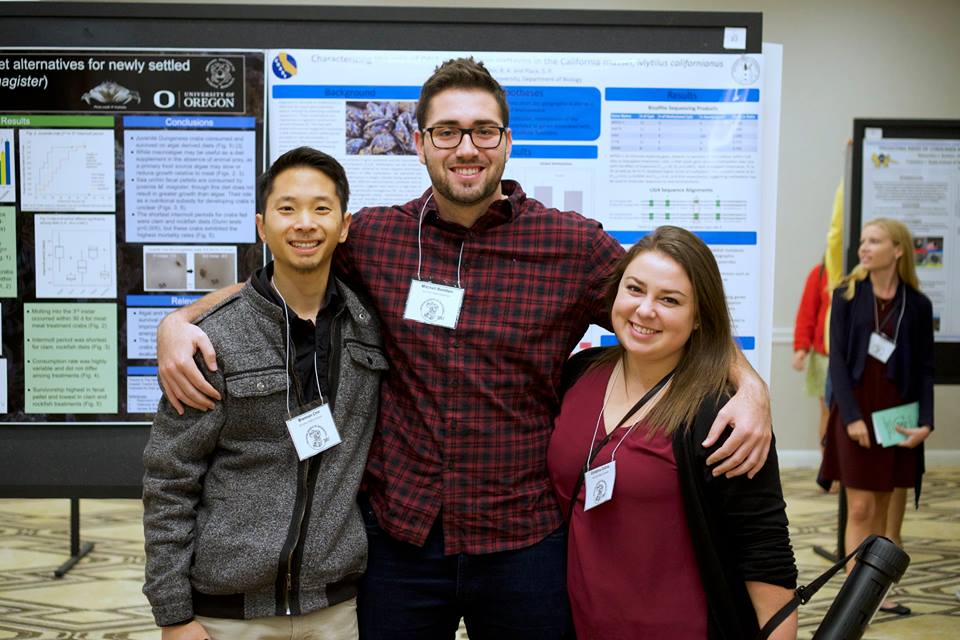 2. Be sure to arrange for the following:
Official copies of all undergraduate transcripts, (send to Admissions and Records Office, Salazar Hall, Room 2030 Tel: 707-664-2778).
One-to-two page Statement of Purpose detailing your background in biology, objectives for graduate school and career goals. "Specifically, we list some suggested topics that may help guide you writing the statement of purpose (or personal statement) for your application:

Describe your research interests,
Reason for choosing MS degree and expectations for the MS program,
Any evidence that demonstrates you adding value to the MS program,
Appropriate experience that demonstrate likelihood of success for completion of Thesis research, and
Goals beyond Master's degree.

Two letters of recommendation from individuals familiar your background in biology and able to comment on your potential for conducting primary research.
Graduate Record Examination or GRE scores are NOT required for admittance into our program. Applicants are still welcome to submit their GREs, but this is optional, and not a requirement.
Any inquiries or questions can be directed to Dr. Mackenzie Zippay, Graduate Coordinator, Department of Biology, Sonoma State University, Rohnert Park, CA 94928. Email: zippay@sonoma.edu, Tel: 707-664-4349.
Admission to the program requires:
Acceptance by a Biology faculty member (tenure-track or approved SSU adjunct faculty member) to serve as a faculty research advisor. Students should review the information on faculty members and contact them prior to completing an application.
Approval of the Graduate Committee.
To be admitted to the Graduate Program in Biology, an applicant must be accepted into a research program led by one of the faculty members. 
All applications will be reviewed by the Graduate Committee. The Committee will look for evidence that the prospective studentis capable of initiating, performing and completing original research in their field of study. As a general guideline, the Committee will use following criteria to assist in determining this potential:
An undergraduate degree in biology or equivalent, from an accredited institution with adequate preparation in mathematics (statistics or calculus), chemistry (general and organic), physics and

Core areas in Biology required to be successful in the program such as physiology, molecular and cellular biology, ecology, and/or evolutionary biology.

A 3.0 GPA or higher in the last 60 units.
Evidence in letters of recommendation of potential for conducting independent and original research in biology.
The application deadline in the department is January 15th for the Fall semester and October 31st for the Spring semester. The SSU Admissions and Records Office will notify students about the status of their applications.
Students will be admitted into Classified Standing. Applicants deficient in undergraduate subject preparation as outlined above will be expected to demonstrate competency in it before being advanced to candidacy.
Graduate Student Support
Graduate students in the Department of Biology are supported through a variety of sources. The Department has approximately 20 teaching assistantships available each semester and these positions are filled one semester in advance (contact the Graduate Coordinator for details). In addition, students may receive research assistantships through individual faculty members and their research grants. The University offers a limited number of tuition fee waivers for qualified teaching assistants. Students can also obtain academic scholarships as well as financial aid (usually in the form of low-interest loans).
Important SSU Offices For Applicants